2017
Been really bad at keeping up the news page but we have had a really busy year focusing on our wholesale and building fabulous nationwide and global stockists. This is a lovely piece in the Sunday Express S Magazing this November:
Metro October 2017
Just at the bottom, squeezed in the White Pom Pom Fairy Lights - they really do add lovely ambiance for a comforting, cosy room.
2016 HAPPY POMTASTIC NEW YEAR!
February 2016 Homes & Antiques Magazine. The festival pom pom garland was in a get the look page as the house they featured had them hanging in the daughters bedroom. Love the paint colour they have been put against.
The Pom Pom Smashed Christmas!
We were thrilled when the new rainbow pom pom fairy lights were selected to be featured in a Window Shopping selection, and in amongst some fairly well known company. That made us grin a bit!!
The White Pom Pom Fairy Lights were picked up by Rita Konig in her December column. Rita has also recently launhced her own website, take a peek as she also runs courses for some seriously fantastic interior expertise http://ritakonig.com/
House Beautiful borrowed the fairy lights to recommend in the magazine and is also now online:

http://www.housebeautiful.co.uk/decorate/display/news/a98/festive-fairy-lights/
Time Flies When You Are Having Fun with Pom Poms ....
JUNE - DECEMBER 2015

So, we are blatantly belated with our news updates but we have been busy! We've launched two new ranges our pom pom fairy lights and pom pom push pins and magnets as well as a few new colours of pom pom garlands. All seeming as popular as ever, the pom pom love is clearly spreading. We now have stockists and customers from all over the globe (which is also round like a pom pom) and we are thrilled to be sending our product out to them.
Some lovely Autumn Coverage in Roco Magazine see the issue here, plenty of interior inspiration to be had. Click image.
JANUARY - MAY 2015

It's been a busy start to the year, not to mention how quickly it seems to be going .... ! We have done two trade fairs and have met some fabulous new stockists from all around the country and abroad. We are delighted to be teaming up with them and enabling the PomPom Galore brand and products to reach more corners or the world.
A fabulous alternative fashion magazine House of Coco featured the Dusty Pink and White Pom Pom Garlands in a feature on 'fairy tale.' The picture here was taken by our super talented photographer Victoria Macken http://www.victoriamacken.co.uk/
DECEMBER 2014

The blogpost we had in the super hearthome.com blog last month looked terrific so when the December issue of the magazine came out we had a lovely suprise to see the white pompom garland being used in styled photoshoot.

More lovely press and this time it is the December issue of the Sainsbury's Magazine, which is an amazing issue. Having never really looked at it thinking it was just full of 'Sainsbury's ' self promotion - how wrong are we! Highly recommend it - and here is the garland favourite shining its stuff:
This was our stall at a recent charity Christmas Fair, as one customer commented "It is like a pom pom sweety shop!" We aim to please!

OCTOBER & NOVEMBER 2014
A very busy few months, its that time of the year when retail gets busy busy! We've been delighted to the response by shops when we exhibited at trade fair Top Drawer in September and have been busy fulfilling orders and getting pompoms onto shelves!
A nice 'Halloween' bit of press coverage Spooky Garland !!
We've had some more lovely press coverage and a fab blog write up on one of our most favourite online blogs HeartHome. We've been avid followers of HeartHome since its conception when Blogzines really began to take hold so to be written up by Carole, one of its founders, is a real accolade for us! Have a read here then divert yourselves to the HeartHome online magazine which is a real treat
! http://www.hearthomemag.co.uk/blog/pom-poms-galore
We are thrilled also to be included in Grazia Live's Secret Santa Christmas Gift Guide, Pompom Garlands make ideal Christmas Gifts, somehting a bit different - a bag of smiles! http://www.graziadaily.co.uk/christmas/secret-santa-gift-guide

Click the image link here but also get fully distracted by all the other wonderful ideas they have put together ....
AUGUST & SEPTEMBER 2014
Press Coverage: Angels & Urchins Magazine. We had a fabulous inclusion on the main fashion spread which is 'Party'. The Blue and the Apple Green Garlands look terrific in the shot.
Press Coverage: We had the most lovely write up in a new online publication called Erisea Magazine read the article here and be prepared to be fully distracted by the magazine, so put the kettle on!
http://erisea-mag.com/?s=Pompom+Galore
MAY, JUNE & JULY 2014
It's been a super few months, establishing the brand within the wholesale market starting with our first trade show Pulse. We were thrilled with the response to our humble pompoms! We now have some lovely stockists all over the UK and Europe and are delighted with the feedback and response their customers have been giving. We've supplied to some events and weddings, which is always such fun as well as busy developing some new ideas for AW14 & of course Christmas!
Press Coverage: Sunday Times Style, hit totally the right note with 'Bunting being so last year' made us chuckle !

Press Coverage:
March & April 2014

Press Coverage; Teen Tatler April 2014 issue featured the Rainbow garland.
Press Coverage: Angels and Urchins feature the Easter PomPom Garland in its online Easter roundup.
We are busy preparing for our first trade show, Pulse - London at Earls court in May. We will be stand E35. Shout out if you would like an invite to register for free. This is a trade show.
FEBRUARY 2014

We are being very quiet in February as we work on our new colours and pom pom accessories. Hoping to launch in March. Watch this space x


JANUARY 2014

Press Coverage

How chuffed were we to see the front cover of the January issue of Country Homes & Interiors our white garland being used to full potential on the tree and on the wall! Lovely .. and a thank you to the new customers gained from the coverage and of course to stylist Carol Wortly.

Another bubble can be found in the January issue of online magazine, 91 Magazine a wonderful issue full of inspiring stories and ideas. It really is a must read for anyone loving craft & interiors.

We were over the moon when the hugely talented stylist Caroline Davies chose to use our white pompom garland for an advent blogpost on her blog Trend Daily. The image is divine!


The Pompom garlands seemed to have hit a cord with discerning wedding stylists, they work really well in a wedding setting - The winter issue of Dotty Vintage Weddings borrowed a load of white pompoms for an incredible shoot they did before Christmas. It really shows the effect that multiple pompom garlands can give. See [page 28 onwards to see what we mean. There is also a super video you can watch here: Behind The Scenes
NOVEMBER/ DECEMBER 2013

Over excited doesn't quite describe how we are feeling with these three news items ...
1. Handmade & Hitched - a most beautiful blog for weddings, and even for those of us who are well and truly hitched! Michelle has written a blog post about how we came to be as well as crediting the wonderful collaborators who have helped us to date.
2. Hus & Hem the most fabulous Scandinavian emporium in Ledbury has adorned it's Christmas windows with multi-yarn coloured pompom garlands and the cream yarn pompom garlands. See these pics, and see if you can't smile! Picture links to the Hus & Hem Scandinavian Christmas page - it's worth a look very much .. so ..
3. A selection of garlands were in demand to help decorate a small marquee area at a private wedding viewing at Iscoyd Park, Shropshire last weekend. It is lovely to see them being used like this, something we envisaged when we were developing the ideas back in the Summer.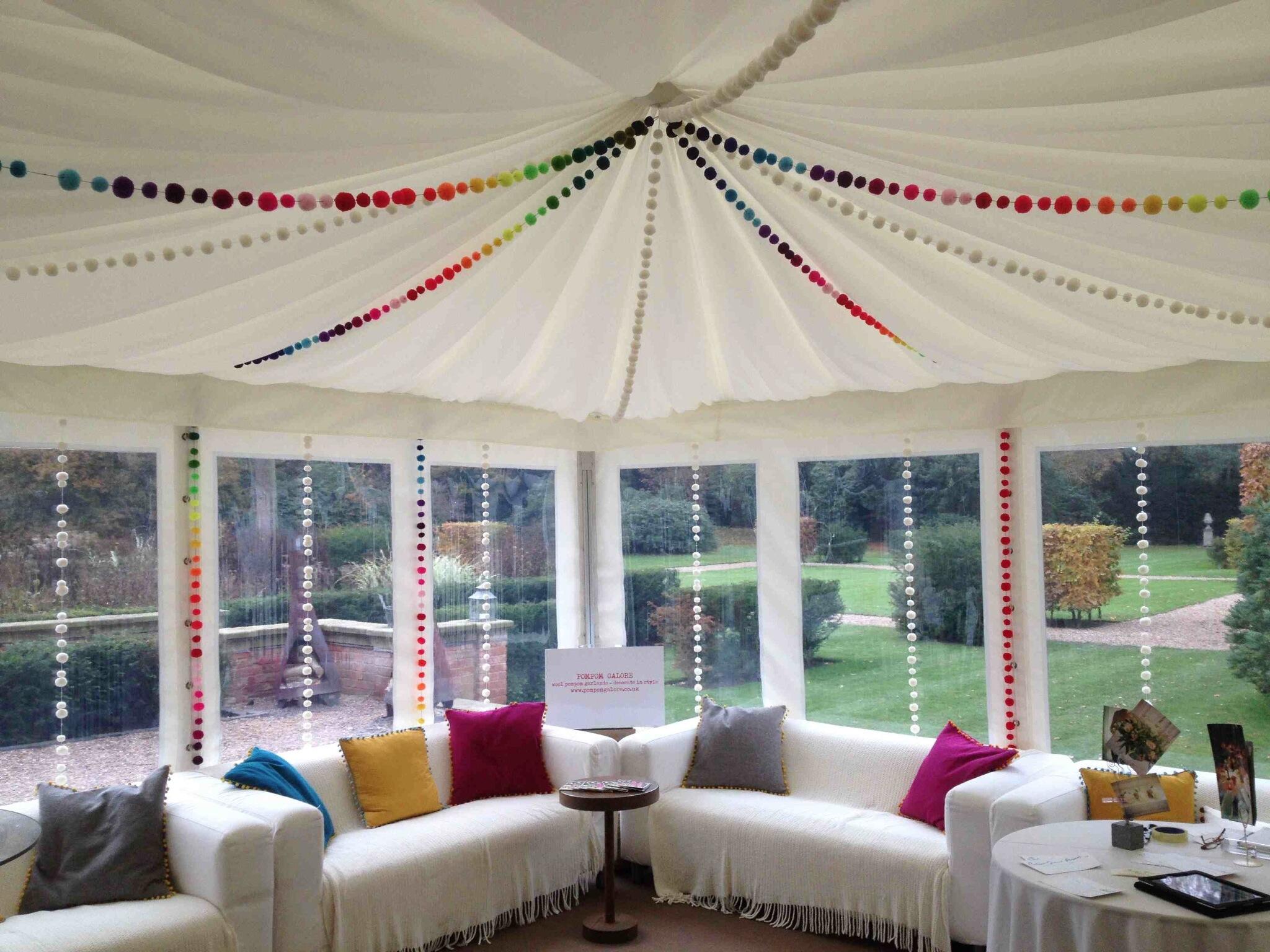 4. One of our lovely regional publications Shropshire Review included us in their Christmas Decorations feature. It was super when our friends spotted us to let us know that we were in the magazine! Thank you All.

OCTOBER 2013

We were delighted when the hugely talented Kalm Kitchen contacted us for pompoms to work on a display at an exclusive event last week. The stand looked stunning, the food incredible - and the Pompom garlands looked resplendant.
SEPTEMBER 2013
One of our most favourite online magazines is 91 Magazine and we are thrilled to have got a spot in the current issue:

http://www.91magazine.co.uk/ see if you can find us
Stockists:
We are delighted that our PomPom Garlands are available at:
a cheery shop where you can find beautiful, quirky and original things for you and your home. Your order will arrive lovingly wrapped in brown paper and tied up with string.

We are also stocked in shops across the UK, France, Belgium and Germany. Please contact us if you would like to find a stocksist near you.